When we think of bakery products what crosses our mind are cakes, Loaves of bread, biscuits, and cookies. People always prefer bakery products as there is a greater amount of the population globally has sweet tooth. As a result of busy lifestyles, there has been a rise in ready-to-eat products recently. Along similar lines, frozen food is widely popular as it could be stored and used whenever needed. The propelling presence of growing malls, supermarkets, and hypermarkets has increased the popularity of convenient food.
Cakes, pancakes, doughnuts, and other bakery items can be found frozen. These products are incredibly popular among the general public due to their availability and huge range. To maintain safety and minimize waste, frozen bakery goods must be stored at the right temperature. This not only makes the product safer but also makes it last longer without losing flavor. As a result of hectic schedules, Gen Z is anticipated to be ideal consumers.
The sales of frozen bakery goods have increased thanks to items like cakes, pastries, cookies, pancakes, bread, and muffins. These goods are purchased in smaller quantities and are consumed while they are still fresh. Also, this has forced operators of cafes, hotels, and restaurants to expand their menus to include frozen bakery items. This has a favorable impact on the frozen bakery business as a result.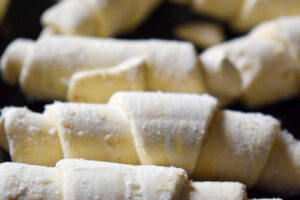 The frozen bakery products market size is anticipated to increase and surpass a valuation of USD 51.6 billion by end of 2031. The market was valued at USD 28.1 billion in 2021. This industry is expected to grow with a CAGR of 6.3% by 2031.
The frozen bakery products industry is getting competitive with each manufacturer's entry into this arcade it's highly difficult to create unique selling points for business. However, as a result of innovation, some vendors are trying new distribution channels, attractive packaging, and novel recipes to make confectionary further sustainable and accommodative for many consumers. Setting up a bakery business involves multiple investments such as rental costs, labor costs, and pieces of equipment to store and prepare products.
Growing concerns about health among people and increasing lifestyle diseases are helping people to rapidly shift to natural ingredients and organic alternatives. Shifting health awareness among people is a propellant of demand for sugar-free and gluten-free bakery products in the market.
Retail chains are also focusing on including different varieties of products; from pizza crusts to muffins, products having various flavors are spurring the demand for frozen bakery products. Manufacturers of frozen bakery products are focusing on offering easy-to-cook food that requires no effort except for defrosting the food. Thus, the convenience of frozen bakery products is pushing the growth of the same.
Furthermore, companies and bakeries are moving towards producing fat-free and low-fat frozen bakery products. In order to respond to changing consumption patterns, new products are being introduced including natural sweeteners, and organic ingredients to meet the customer demand for a healthier lifestyle.
Here are some frozen bakery product companies that are popular and anticipated to grow in terms of market share-
Frozen bread has the advantage that it won't lose its qualities after baking. Flowers food company recently announced a novel addition to its canyon bakehouse frozen line for the launch of gluten-free sub rolls and bread. Bakehouse has advanced packaging that highlights gluten-free built into the logo and got popularity in gluten-free food items.
The company is leading in the confectionery sector as it recently launched some new products into its product portfolio. These include the Pillsbury Money Bread Pull-Apart Kit, Pillsbury Garlic Bread Pull-Part Kit, Pillsbury Mini Cinni Stix, Pillsbury Mini Pizza Crusts, Pillsbury Birthday Cake Dough Poppins and Pillsbury Chocolate Chip Cookie Dough Poppins.
The company's creation is crafted to retain flavourful and be full of aroma. The company is into the creation of frozen snacks, and other products such as sandwiches that serve Every Bit Better.
The company is leading in the confectionary markets specializing in sweet treats including muffins and cupcakes. the brand offers a range of baked fresh as well as frozen range of products like muffins and cupcakes.