Digitalization, personalization, and sustainability are modern aspects touching and influencing every industry. Consumers are influenced by the strategies of market leaders while demanding superior quality footwear.
E-commerce, mobile internet connection, and increasing smartphone adoption are driving growth in footwear retail sales worldwide. Customers can also compare various brands and products on e-commerce websites. The influence of celebrity and influencer culture is also being utilized by the footwear business to appeal to various customer categories.
Undoubtedly, one of the worst offenders of waste in the fashion business is footwear. Because a shoe has so many different parts, it is quite difficult to separate them for recycling, repurposing, or composting. A simple pair of sneakers, for instance, can include more than 60 parts and be made of leather, rubber, foam, synthetic materials, various textiles, plastics, and metals. It entails disassembling the shoe before even thinking about what to do with the remaining components; as you might see, this is time-consuming, difficult, and now
Sustainable footwear is gaining attention across the globe. As per the US interior department, about 20 billion footwear pairs are manufactured annually, which is denoting high demand projections in the forecast period. Biodegradable footwear manufactured by Nike has broken down the footwear into pallets.
The footwear market tends to grow nearly 1.5x between 2021 and 2031, reaching nearly US$ 640 Bn in 2031 with a 10-year compound annual growth rate (CAGR) of 4% as per Fact.MR report. Download a sample.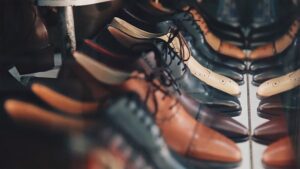 Nike, Inc. is a multinational firm that develops, designs, manufactures, markets, and sells footwear, equipment, clothing, accessories, and services on a global scale. Moreover, it works with the Converse, Hurley, and Jordan names. In order to widen its product offering and obtain a competitive edge in the market, Nike has bought shoe brands like Converse, Inc. and Cole Haan.
A business created by Chris Anderson that produces handmade sandals and accessories today, the Nomadic State of Mind is available everywhere. Only organic, long-lasting, recyclable, or recycled materials are used, along with minimal packaging that is all vegan-friendly. At this time, they estimate that their sandals are about 90% recyclable.
For retailers and end users, Geox designs, develops, markets, and distributes footwear and clothing. Under the Geox brand, the company also sells shoes, jackets, and accessories for people of all ages. Via a network of more than 1,160 stores bearing the Geox name and conventional retail locations, it offers its goods in more than 110 countries. The extensive line of Geox goods is created to satisfy specific needs while also including current style, comfort, and well-being.
A leader in the footwear sector, Skechers USA, Inc. creates and sells more than 3,000 different designs for kids, adults, and everyone in between. It offers performance footwear and the lifestyle division, two separate footwear categories. Additionally, the business sells branded eyewear, scrubs, clothes, and accessories. Skechers currently provides service to more than 170 countries and territories through a global network of distributors, subsidiaries, and joint ventures in Asia, Mexico, and the Middle East.
Cross Retail
The pioneer in creative and informal footwear is Crocs, Inc. The Traditional Clogs, the brand's earliest and most well-known model, became incredibly well-liked all over the world. Since then, more than 300 million pairs have been sold in more than 90 nations. Croslite, a patented closed-cell resin used in the design and production of Crocs goods, gives each pair of shoes the properties of being soft, light, comfy, non-marking, and odor-resistant.
Timberland LLC is a manufacturer and retailer of footwear, workwear, and apparel, such as clothes, watches, glasses, sunglasses, and leather goods for men, women, and children. The company's flagship product is its waterproof boots, which are manufactured using environment-conscious materials and innovative technology. The company has also launched an advanced anti-fatigue technology comfort platform that uses shock-absorbing cones to compress and rebound energy back to the foot, providing more stamina and strength, and reducing foot fatigue.
It owns authorized trademarks like Cat and Harley-Davidson footwear. Wolverine Worldwide strives to produce the most comfortable boots that can resist harsh environments. The company has a well-established global footprint that covers almost 200 nations and territories.