The footwear market is a rapidly growing industry that has seen significant changes in recent years. It is estimated to be worth around $365 billion and is expected to continue growing at a rate of 4.5% annually. This market encompasses a wide range of products, from athletic shoes to luxury high heels, and caters to a broad range of consumers.
One of the major trends in the footwear market is the rise of athleisure. This trend has seen the lines between sportswear and casual wear blur, with people wearing sneakers and other athletic shoes as a fashion statement rather than just for athletic activities. The athleisure trend has been a driving force behind the growth of the sneaker market, which is projected to reach $88 billion by 2024.
According to the Fact.MR, The global footwear market stands at a value of US$ 465.1 billion in 2023 and is forecasted to hit US$ 688.4 billion by 2033, rising at a steady CAGR of 4% from 2023 to 2033 (forecast period).
Another trend that is driving the growth of the footwear market is the focus on sustainability. Consumers are becoming more conscious of the environmental impact of the products they purchase, and this has led to an increase in demand for eco-friendly footwear. Many companies are now using sustainable materials such as recycled plastic, organic cotton, and biodegradable leather in their shoe designs. This trend is likely to continue as consumers become more environmentally aware and seek out more sustainable options.
The luxury footwear market is also experiencing significant growth. Luxury brands such as Gucci, Louis Vuitton, and Prada are expanding their footwear lines to cater to the growing demand for high-end shoes. The luxury footwear market is projected to reach $43.3 billion by 2025, with consumers willing to spend more on high-quality shoes.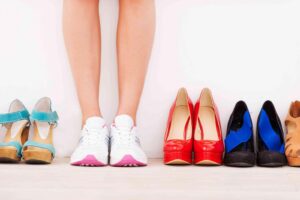 Online shopping has had a significant impact on the footwear market
The rise of e-commerce has made it easier for consumers to purchase shoes from anywhere in the world, and has given small and independent shoe brands the opportunity to reach a global audience. Online marketplaces such as Amazon and Zappos have become major players in the footwear market, with consumers using these platforms to compare prices and browse a vast selection of shoes.
In terms of geographical regions, Asia-Pacific is the largest market for footwear, accounting for approximately 50% of the global market share. This is due to the large population in countries such as China and India, as well as the growing middle class with higher purchasing power. North America and Europe are also significant markets for footwear, with consumers in these regions willing to spend more on high-quality shoes.
In terms of types of footwear, sneakers are the most popular category, with athletic shoes and casual sneakers making up the majority of sales. However, there is also a growing demand for dress shoes and boots, particularly in the luxury market. Women's shoes make up the majority of sales in the footwear market, with high heels, sandals, and boots being the most popular styles.
Latest Trends on Footwear Industry:
Chunky Sneakers – Chunky sneakers continue to be a popular trend in 2023. These sneakers have a thick sole and a bulky silhouette, giving them a unique and eye-catching look.
Platform Shoes – Platform shoes are making a comeback in 2023. These shoes have a thick sole that adds height, making them perfect for a night out or a day of running errands.
Sustainable Footwear – There is an increasing demand for sustainable and eco-friendly footwear. Many brands are using recycled materials, such as plastic bottles and old fishing nets, to create their shoes.
Embellished Shoes – Embellished shoes with beads, sequins, and other decorative elements are a popular trend in 2023. These shoes are a great way to add some sparkle and glamour to any outfit.
Comfortable Shoes – With the rise of remote work and virtual meetings, comfortable shoes have become a must-have item. Many brands are designing shoes that are both stylish and comfortable, such as sneakers with memory foam insoles and slip-on shoes with arch support.