Accelerated climate change is anthropogenically induced to great extent, which makes cutaneous health vulnerable to climatic factors. Our skin is a large, complex organ that serves as a primes organ that acts as an interface with the external environment playing a key role in sensory and thermoregulatory functioning. As a result, there is a surge in dermatological issues and products recently.
When It comes to the projection of growth in the skin treatment market the industry at present accounts for USD 18.71 billion in 2023. Moreover, this market is expected to grow annually by 3.66% in the next four years' duration i.e. 2023 to 2027. the most revenue in the skin segment is expected from the United States this year.
Some of the most prevalent skin issues are acne, dead skin built up and blocked skin follicles. Cracking and scaliness are mostly observed in dry skin types. In the upcoming years, an enticing growth rate is anticipated in the market for dermatological solutions to treat skin issues, prevent some skin illnesses, and even maintain one's skin.
Biologic agents or protein-based medications are used to treat inflammatory skin conditions such as acne, dermatitis, psoriasis, and others. As a result, it is anticipated that sales of dermatological products, which include both prescription and over-the-counter products, will rise by 2/5ths of their current value.
The global arcade of dermatological products accounted for USD 15,500 million in the last year 2022. Further, this market is expected to surpass a valuation of USD 26400 million by end of 2032 with a CAGR of 5.4%. Download Free Sample Report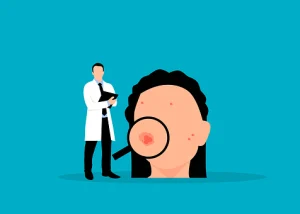 Eco-friendly skincare is an emerging opportunity for manufacturers
Eco-friendly products gaining attention among consumers due to rising awareness of health and animals. Many surveys confirm consumers' interest in buying eco-friendly products. These demands tend to increase innovation in skin care products.
The plant-based skincare range is likely to progress in the forecast period owing to the rise in the adoption of vegan products by customers. Plant-based creams and lotions help in restoring the glow of skin and shine without any aftereffects of chemicals. Some manufacturers have already tracked the transformation and improved their products-
Armani Beauty launched a new line in 2019, which included environmentally responsible men's daily grooming products such as toners, face wash, and moisturizers manufactured with biodegradable and natural formulations, ensuring that 99% of ingredients are obtained from nature.
Allure came up with the Nature in a Jar Collection, which consists of two body care products – a shower oil 'The Nourishing In-Shower Oil', which is vegan and gluten-free, and a body lotion 'Cream-to-Water Body Lotion with Cactus Fruit Extract'.
Apart from the change driven by the vegan range, there is also a crucial role in the technology that leads to a change in consumerism and manufacturers' strategies in the presence of technology.
The advanced technologies transmuting dermatological offerings
For the purpose of discovering novel medicines, manufacturers in the market for dermatological products are utilizing cutting-edge technologies including biomarkers, molecular targeting, and nanotechnology. The main area of development in dermatological biologics is psoriasis treatment, where more than ten authorized biologics are utilized to treat mild to severe psoriasis, driving the market growth.
Nanotechnology enhancing skincare like never before
Nanotechnology has gained attention among skin scientists and dermatitis as its effectiveness in providing UV protection, finish quality, and long-lasting effect. So far nanotechnology has shown optimistic results with makeup removal, facial cleansers, anti-aging creams, sunscreens, and make-up removals. Among most of the available products in the market those with nanotechnology are found to be the most suitable.
The basics of nanotechnology are in- the smaller the particle the greater outcome it shows on the skin. Nanoparticles allow products to penetrate or spread effectively on the skin which is likely to protect the skin from exposure to UV rays. With several tests against dermatological standards, products were further made reliable.
Dermatological products are increasingly admired for their advanced technologies. Manufacturers are focusing on developing innovative distribution methods and less invasive products for consumers. Many cutting-edge goods use sensors to analyze the state of the skin and then suggest skin therapy to improve it.
The development of Nanomedicines, alteration of Nanocarriers, and utilization of antioxidants find extensive use in the cosmetics and skin care industries. For instance, nanoparticles are frequently utilized in anti-aging and UV-light-absorbing sunscreen lotions. As a result, the market for dermatological goods is anticipated to rise by 1.4X due to the introduction of new technologies.
Acne, scar, and stretch marks – Segments likely to gain major market share
There is rapid growth in product research and innovation in skin treatment is expected to drive the growth in this segment. Acne pathology is gaining attention from manufacturers and is bound to come up with new products under this segment in the upcoming time. However, due to rising skin injuries and accidents the scars treatments are also gaining demand.
However, the side effects associated with products are affecting the growth of certain segments. Improper and long use of these products could result in side effects. Drugs with hydroquinone have resulted in inflammation, burning, peeling, and skin redness if used for a longer duration. Thus, these side effects of dermatological products are shifting consumer preference toward natural and plant-based alternatives.
Owing to the aforementioned issues, finding a product that matches your expectations and also suits your skin can be a daunting search sometimes. Here are some brands you can trust as they are top performers in the dermatological product range this year-
The company has acquired the world's leading independent dermatology brand, Stiefel. The new global business will combine revenues of dermatological products by both brands. Physiogel, sunblock 60, and hydrozoa are some global product categories catering to distinct categories such as antifungals, sun protection, and skin dryness.
The brand is globally known for its efficacy across generations its most recognized name in the skincare arcade. The brand line relies on the proven active hyaluronic acid and niacinamide skin that appears younger in looks.
It is a leading major skin care and health sector brand transforming the industry landscape. The brand is focused on providing affordable healthcare for all. Dermi cool and Boro plus are the leading segments of the brand.
Reckitt
Recently the company announced a partnership with Karo Pharma. E45 is an iconic and trusted skincare brand for the last 60 years. The brand has expertise in science-based skincare.
The skin care expert brand has developed innovative cosmetic ingredients inspired by superfoods. The company has launched Ronacare Baobab and Ronacare Hibiscus recently in 2022 for youthful skin. The company focuses on the use of nutrient-rich superfoods for making skincare products range.