According to Fact.MR, a market research and competitive intelligence provider, the global antimicrobial susceptibility Test market is estimated at US$ 3,285.8 million in 2022 and is expected to expand at an impressive CAGR of 5.7% during the forecast years of 2022-2032.
---
A lack of safe drinking-water and hygienic conditions has led to a rise in the prevalence of infectious disease outbreaks, including those caused by Shigella, Neisseria gonorrhoea, Neisseria meningitides, and Salmonella serotype Typhi. As a result, doctors are more aware of the value of conducting antibiotic susceptibility tests (ASTs), which are now an essential part of clinical microbiology laboratories and are anticipated to drive the antimicrobial susceptibility testing market.
Additionally, the use of antimicrobial susceptibility test by biotechnological and pharmaceutical companies has increased as a result of the growing prominence on drug discovery as well as the rising incidences of chronic ailments and the emergence of antimicrobial resistance. Hence, during the projected period, this trend is anticipated to fuel the market for antimicrobial susceptibility testing.
Key market players now have a new opportunity to invest in the antimicrobial susceptibility testing market due to the availability of a variety of manual products as well as automated products that offer results for testing in less time and with a higher degree of accuracy. This opportunity will accelerate the market's growth and present sizable growth opportunities during the forecast period.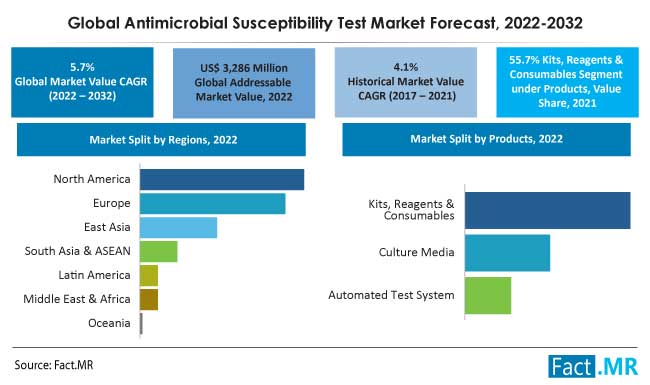 Key Takeaways from Market Study
The global antimicrobial susceptibility test market is projected to expand at an impressive CAGR of 5.7% and be valued at US$ 5,712.2 million by 2032.
The market witnessed 4.1% CAGR for the period of 2017-2021.
Under product, kits, reagents, & consumables dominates the market and are valued at US$ 1,828.1 million in 2022.
North America dominated the market with 34.9% market share in 2021.
Based on region, demand for antimicrobial susceptibility is expected to increase at CAGRs of 6% and 5%, respectively, in North America and Europe.
Market Development
The top competitors in the market have modernised their manufacturing facilities and are working on various R&D projects. For major suppliers of antibiotic susceptibility testing systems- regulatory clearances, the launch of new & high tech products, acquisitions, and cooperative collaborations with other companies are all top goals.
Moreover, leading players in the antimicrobial susceptibility test market will have an advantage over local and regional competitors due to strong investment capacity in R&D activities.