According to Fact.MR, a market research and competitive intelligence provider, the global nafion market is estimated at US$ 776.9 million in 2022 and is expected to grow at a CAGR of 5.0% during the forecast years of 2022-2032.
---
To offer application-specific products, companies are offering various forms such as resins, dispersions, and membranes. The Chemours Company, Solvay, and Dongyue offer nafion in all three forms for a range of applications.For instance, nafion membranes offered by Chemours, are used in the Chlor-alkali industry, fuel cells for hydrogen production, energy storage, and transportation.To monopolize the company's product portfolio, Chemours offers varieties of nafion membranes such as Nafion sulfonic acid membrane and Nafion Chlor alkali exchange, which are also categorized as high-strength membranes and high-performance membranes.
The four product categories that Solvay has identified are membranes, dispersions, resins, and pellets. These items can be used for a variety of purposes, such as polytetrafluoroethylene (PTFE) membranes surface treatment, polymer electrolyte membrane (PEM) fuel cell electrodes, and super acid catalysts.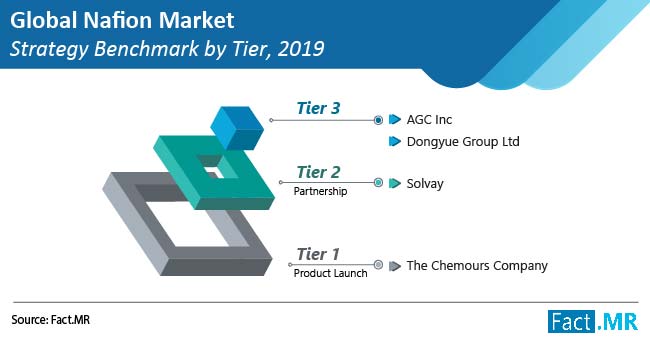 Key Takeaways from Market Study
The global nafion market is projected to expand at a CAGR of 0% and be valued at US$ 1,265.5 million by 2032
The market witnessed a 0% CAGR for the period of 2017-2021
Under the form, membrane Nafion dominates the market and is valued at US$ 534.8 million in 2022
East Asia dominated the market with a 2% market share in 2022
Europe dominated the market with an 6% market share in 2022
North America dominated the market with a 3% market share in 2022
Market Development
The global nafion market is a highly consolidated market in which, The Chemours, Solvay, AGC Inc, and Dongyue Group Ltd. account for all the nafion produced in the world. The scenario is projected to continue, attributed to their targeted product launches in order to align with increasing demand and the trend of high-performance ion exchange membranes.