We all witness folks popping open a bottle of Champagne during wedding anniversaries, birthday parties, end-of-year parties, and business parties. Wine is something reserved for special occasions be it a celebration of birthdays or a milestone achievement. Even though we may not be aware of occasions, the idea that no memorable occasion is complete without a toast has been profoundly ingrained in our minds.
Wine has long been connected to festivities and luxury. What, though, is sparkling wine? When wine is poured into a wine glass, the wine sparkles due to the fizziness and "bubbliness." Even though producing this wine is not easy their fancy fizziness is a key factor behind the surged sales of sparkling wine bottles.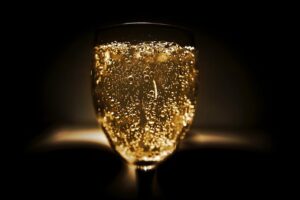 The global sparkling wine market size was valued at US$ 43 Billion in 2021 and is expected to reach US$ 45.99 Billion in 2022. From 2022-2032, the market is likely to witness a CAGR of 6.9% to close in on a value of US$ 90 Billion by 2032. The modern trade segment represents a revenue share of more than 1/3rd while e-commerce sales will likely amount to around 20%.
Besides, shifting lifestyles, increasing health awareness, and increasing social media influence on all generations along with increasing social parties are furthering the consumption of globally. Other factors such as the young generation under the high social network influence, growing family earnings, and easier access to alcoholic and non-alcoholic drinks are fuelling demand for sparkling wine.
Many people wonder if this fizzy sparkling wine bottle is good for their health. However, with some amazing health benefits, one need not feel guilty while having wine or when they see the wine aisle right in front of you in supermarkets. These are some health benefits to indulging-
A glass of wine is helpful in improving gut health. As it contains polyphenols extracted from red grapes which are effective in treating good bacteria growth. These gut microbes are essential for health and overall neat digestion systems and keep a check on the immune system. furthermore, non-alcoholic sparkling wine also increases the production of essential vitamins and positively impacts mental health.
The skin of red grapes, which is a form of polyphenol, contains resveratrol. Resveratrol is a potent anti-inflammatory and antioxidant substance that can help reduce inflammation and halt the progression of chronic illnesses like metabolic syndrome.
Sparkling wine also improves skin as it contains carbon dioxide. Many skin therapies today use carbon dioxide to rejuvenate skin while one can achieve the same with the consumption of a wine bottle that actually improves skin's elasticity and reduces wrinkles. furthermore, polyphenols antioxidants in wine provide antioxidants to the skin preventing it from redness.
While a glass of sparkling wine helps one to gain some health benefits. But overindulgence could have some concerns for health as anything in excess amount could be bad for health. Like other wines, even consideration for sparkling wine's alcohol content may addition of calories to your diet. furthermore, apart from calories the alcohol content in these wines could affect metabolism. This could affect individual fitness goals.
Alcohol tends to disrupt the main sleep phase which is a crucial phase for individual mental and physical health. So if you sleep throughout the night and still wake up exhausted then one of the reasons for which you should blame yourself is that extra glass of wine consumed the previous night. Even though sparkling wine brut is good for the heart it increases the risks of cancers, especially lung cancer. So when choosing a wine one should focus on the quality and quantity.
When it comes to both price and reputation Champagne is still at the top. wines like Cavas from Spain, Red Wine, Franciacorta an Italian sparkling wine, and Californian sparkling wines are midrange options to try. They are excellent buys in terms of affordability. Finding the best sparkling wine is sometimes a daunting search but the following are some best sparkling wines one should give a try-
Poema Pura Organic Brut Cava
Cava is a famous wine variety from Spain obtained from an assortment of grapes. Its bitter floral aroma is sweeter than that of champagne. with this wine, one can find affordable wine in great quantity. The addition of lemon and green apple further enhances the class of this drink.
LaVieille Ferme Sparkling Blanc
This is French in origin, make of Chateau Beaucastel leading Rhones reds giving a holiday brunch option for someone with a faint touch of toasted bread. It's light and citrusy in taste.
NV Graham Beck Cap Classique Brut
What a welcome surprise this fruity, lemony sparkler from Graham Beck in South Africa is. It has a little more complexity than you may anticipate thanks to a faint earthy note that rides along beneath the crisp, effervescent tastes.
Domain Chandon Etoile Brut
This California, a blend of the traditional champagne trinity of chardonnay, pinot noir, and pinot meunier, has a round, toasty flavor bursting with baked pastry, roasted almonds, and white fruits; perfect for chilly winter drinking.