Food preservation is essential to maintain the texture and consistency of foods. The food can retain its nutritional properties with the help of preservatives. Furthermore, the preserved food tends to spoil late and helps to retain flavor and taste.
Since prehistoric times, preservatives are being used to retard spoilage. The process of food preservation has evolved traditionally and has been instrumental in increasing food security. The use of preservatives has evolved since conventional times in terms of processes and beyond traditional ingredients such as oils and salts.
The use of food preservatives has been popular in the food industry. These preservatives effectively halt the growth of bacteria and mold. They also help to increase the amount of time food products can be preserved.
Rising consumer inclination towards Pre-packaged food to favor demand for preservatives.
As people live a fast-paced lifestyle, there is a huge demand for packaged food. Instant food consumption is rising among working-class people and there is a resultant preference for pre-packaged food among the masses. This also generates demand for food preservatives to keep food fresh and free from contamination. However, the growing contamination of food is a cause of concern for food security. As uncontrolled growth of bacteria increases food poisoning issues.
Growing food-borne illnesses portray the demand for the preservation
In the USA the survey done on food security issues , found that foodborne illness is among the most important food safety issue. The majority of foodborne disorders are linked to bacteria and viruses that contaminate food. Moreover, the consumption of contaminated food results in food poisoning that drives demand for proper preservation of food. As a result, methods of preservation are evolving as along to match the trends in the market.
Today, researchers focus on controlling microbial populations, with a focus on pathogenic microbes, which has been the primary goal of food preservation. Food preservation entails preventing microbial development. Adverse conditions for microorganisms are a sufficient method of food preservation. The length of a food's shelf life and its safety are determined by the use of heat treatments, lower storage temperatures, the use of sound production processes, and the use of additives.
Worldwide consumption of food preservatives is forecasted to increase at a CAGR of 4.6% from 2023 to 2033. In 2023, the global food preservatives market stands at US$ 3.2 billion and is estimated to reach a market size of US$ 5 billion by 2033.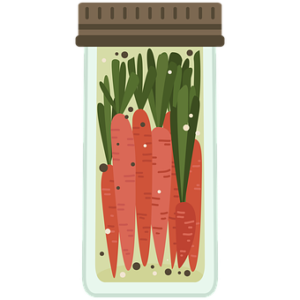 Trends in food preservatives
Clean-label foods to bring growth in the demand for natural preservatives segment
As consumers are more concerned about their food choices, as result they have high expectations from food items. Clean-label food products are being demanded more often, especially in poultry and meat ingredients.  As natural ingredients come from natural sources makes they seem a better option. As our body is more familiar with organic segments it's more likely to suit us. However, with regulatory measures, artificial preservatives are also under scrutiny by FDA which means the food we are eating going under tests.
High-pressure processing and pulsed electric field technology
The high-pressure process is a non-thermal food preservation technique that kills microorganisms that cause diseases and spoil food. It also can cause intense pressure for a certain period and also has minimal impacts on the texture, appearance, and nutritional values of food. Jams and jellies, ready-to-eat meats, and whole-shell oysters are usually preserved using this technology.
The pulsed electric field method on the other side deactivates bacteria at low temperatures and keeps other sensory characteristics of food intact. With the innovations in technologies, the possibilities across products are anticipated to grow. However, the emerging companies in the arcade are expected to play a central role in improving the shelf life of food and improvising the product quality
Opportunities for market players – Natural preservatives and improved shelf life
The novel companies entering the market are expected to bring science that improves the shelf life of products without compromising on taste and texture. The regular consumption of ready-made food and synthetic preservatives have adverse health impacts which is the major impelling factor for entrants to think of. These companies can research novel natural substitutes and bring ahead more natural additives range.
However, some of the present companies are doing great in terms of food technology and business strategies. These companies are not only investing in food research while these are also innovating a natural range of additives for addressing market demand.
Top players taking strategic moves for a competitive edge
The company has a history of 50 years in food nutrition and sustainability pharmaceuticals. In Feb 2023, Kerry and c-LEcta joined hands as leading taste and nutrition companies working in food biotechnology involve in enzyme engineering. The Partnership was announced with the intention to market DENARASE products jointly. Both of these companies are having expertise in the pharma and biopharma sector.
In Feb 2021, Dupont De Nemours announced the merger with International flavors and Fragrances Inc. This merger has helped the company to expand its present portfolio and improve research and development.
This is a global chemical leader associated with the manufacturing of differentiated chemistry solutions along with special materials that are used in most industries. On December 2022, the company was rewarded with the title of one of the most responsible companies in the USA.
It's a promising brand dealing especially with food and bio-ingredients. The firm is managing to bring healthy functional food and supply excellent quality food. The company was one of the leading industry participants in SEOUL food 2019- an international food industry fair. The firm introduced wide ingredients such as spices, color food concentrates, jelly stabilizers, and brown sugar syrup.
Future of food preservation- Chemical additives and Irradiation
Although these techniques are already in use, more growth and development are anticipated. Food gets exposed to ionizing radiation during the irradiation process. Without affecting the food, this procedure can change the DNA of bacteria, microorganisms, or viruses.
The specific targeting of irradiation makes it appealing. Already, it is applied to non-food goods. The major targets of irradiation are the molecular bonds in microbial DNA, but DNA and RNA synthesis, enzyme denaturation, and changes to cell membranes may also be impacted.
The process of irradiation opens all the possibilities for large variants of food in great quantities. However, the latter technique could be expensive and will require specific infrastructure, and may consume more time.
To summarise, Food preservation has been pivotal for us since ancient times. Preservation has evolved in many senses from being a simple process such as salting into more complex methods such as high-pressure processing. Irradiation and chemical additives are technologies looking ahead into the future while high-pressure technique also seems the next logical step. As the world is increasingly turning health-conscious well-preserved food is a top priority of manufacturers. Hopefully, production costs will decrease in the future so that we can enjoy preserved foods.